Quadcept : About Quadcept
Welcome to the world of Quadcept!
Quadcept delivers EDA solutions.
EDA stands for ElectronicDesignAutomation. Quadcept is a software system that helps automate the design of electric systems such as those used for integrated circuits and electronics.
It is much more than just a CAD tool.Quadcept provides inexpensive solutions to problems related to design requirements and manufacturing.
With Circuit Designer, printed circuit board design, and 3D electrical & mechanical collaborative design, this product has been designed to provide comprehensive solutions.
In order to help reduce product lead time, Quadcept provides a common database, library, and models, which helps to save time so that designers can focus more on consistent design flow from product concept formulation to manufacturing.
Quadcept is an EDA tool that makes it possible to improve productivity and reduce the product cycle, resulting in "lower costs", "high performance", and "expandability".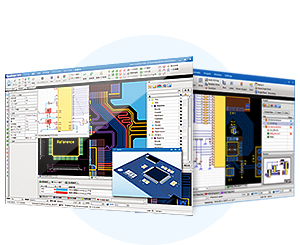 In the future, Quadcept will evolve into an "Anytime", "Anywhere", "Low-cost" cloud-based CAD system that will be able to manage design data, component data, other manufacturing drawings, and CAM data on the Quadcept Datacenter instead of on your server.
Customer-oriented customization and early-stage startup will also be possible. We will provide excellent cloud-based services with high cost performance.
Product Overview
Circuit Designer
New Functionality with Circuit Designer
Circuit Designer includes various functions, and its seamless integration with printed circuit board design / 3D tool allows for improved work efficiency.
List of Circuit Designer Functions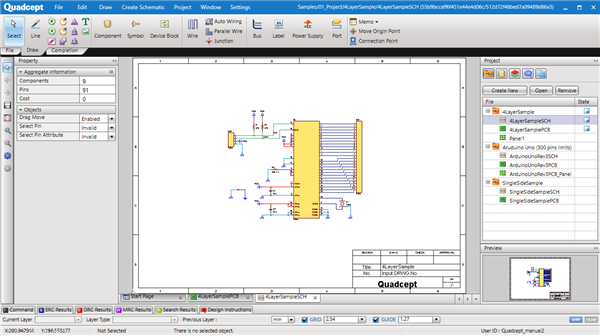 Printed circuit board design / 3D tool (PCBDesigner)
PCB Artwork Design Tool
The artwork tool includes various editing functions for handling advanced board designs such as for flexible boards in addition to single-sided, double-sided, high multilayer, high density designs, and built-up boards.
List of PCB Designer Functions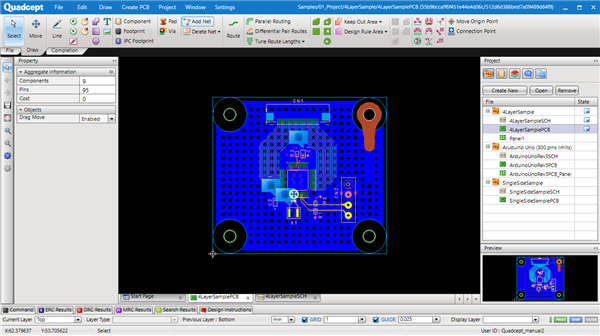 Management System (Force)
A low-cost cloud-based solution capable of using next-generation electronic design environments with excellent cost reduction and work efficiency based on integrated total management without having to organize a network infrastructure or install expensive systems.
* We are currently making great effort to develop Quadcept Force so that it will be available soon!
  Please wait for its launch in the near future.
---
Comparison of Functions with Competitive Products
For a comparison of functions with competitive products, click here.
Quadcept Price
There is no initial cost for purchasing Quadcept. It is available as a subscription service that you can use only when you need it.
You can use the license only for the period that you want to use it, so there are no maintenance fees or other fees normally required with CAD. This allows you to inexpensively use CAD tools only for what you need when you need them.
For details about Quadcept pricing, click here.