Quadcept : Environment Settings
Auto Backup
Files can be saved every certain period of time in order to prevent loss of contents for projects, symbols, and footprints that you are currently working on such as when Quadcept terminates abnormally due to a power interruption.
Files that are saved in this way are referred to as Auto Backup files.
If Quadcept terminated abnormally and Auto Backup is enabled, the backup file will automatically be restored the next time you start up the program.
Auto Backup files are temporary files created while Quadcept is running.
When Quadcept terminates normally, Auto Backup files are deleted.
*Caution*
- A folder for Auto Backup is automatically created in the Process folder of the save area.
- The save location cannot be changed.
- Other operations cannot be executed during Auto Backup.
- The interval set for Auto Backup counts after completing the Auto Backup process.
- When Quadcept terminates normally, Auto Backup files are deleted.
For more details about how to display the setting screen for Environment Settings, refer to About Environment Settings.
Auto Backup Screen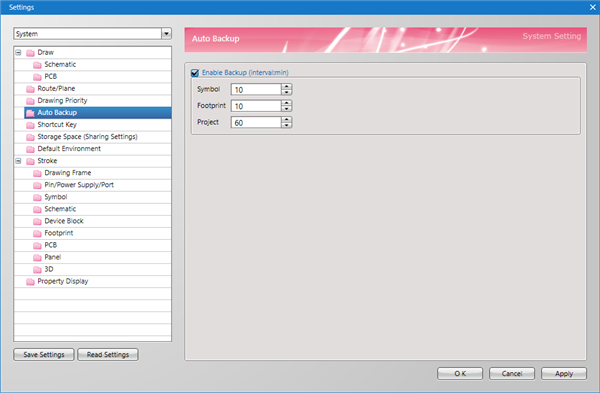 ---
Enable Backup
Place a check to enable Backup.
 Interval (Minutes)
Set the interval for Backup.
About Restore
If Quadcept terminated unintentionally, a screen will open for confirming whether you want to automatically restore from the Backup File the next time you start the program.
************To restore, click "Yes".
---
Displaying Restored Projects
The restored project from Auto Backup will open in the "Project Window".
The name is "Project Name (backup.date time)", it is restored and displayed.
* For new projects that have not yet been saved, "TemporaryProject1 (backup.date time)" is displayed.
---
Saved Items
Saved Items
Restore Status

Symbol

It is restored as an open document.
Confirm the contents and save the file, or close it.

From the "Original File Name (backup.date time)", which is the name given at the time of Auto Backup,
delete "(backup.date time)" and save it using an arbitrary name.
* If you want to overwrite data from before the restoration,
  save it using the same name, and if you want to save it separately and keep the data from before the restoration separately, execute [Save As].

The File Name is Backup Original File Name (backup.date time)
Ex.) QSymbol(backup.7/31 11:08)

If an abnormal termination occurs again before a backup file is saved,
the File Name will be Backup Original File Name (backup.date time - Last saved date time).
Ex.) QSymbol(backup.7/31 11:08 - 7/31 15:40)

Footprint

Project
(Schematic, PCB Drawing)

It is restored as registered in the Project Window.

Confirm the contents and then overwrite the original project, execute Save As, or Delete.

From the "Original File Name (backup.date time)", which is the name given at the time of Auto Backup,
delete "(backup.date time)" and save it using an arbitrary name.
* If you want to overwrite data from before the restoration,
   save it using the same name, and if you want to save it separately and keep the data from before the restoration separately, execute [Save Project As].

The Project Name is Backup Original Project Name (backup.date time)
Ex.) QProject(backup.7/31 11:08)

If an abnormal termination occurs again before a backup project is saved,
the Project Name will be Backup Original Project Name (backup.date time - Last saved date time).
Ex.) QProject(backup.7/31 11:08 - 7/31 15:40)