PCB Layout CAD : Various Convenient Functions
Customize Pad
Customize Pad is a function for creating pads using land shapes other than prepared shapes.
Pad Shapes created using a plane can be used as a pad.
Use this for different shaped pads like SOT-89.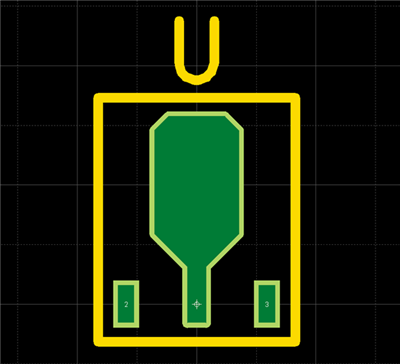 When pads overlap on a PCB, or when the edge of a pad needs to be cut in order to ensure pad isolation, refer to Cut Pad.
---
The following will explain how to create a Customize Pad.
| | |
| --- | --- |
| (1) | Draw a Customize Pad shape using Filled Polygon. |
(3)
Select a Filled Polygon and Pad,
Right click
Select => [Customize Pad]
=> [Merge Pad with Plane].
| | |
| --- | --- |
| | A Customize Pad will be created. |
* By clicking "Yes" for the message, "Do you want to change paste and solder to imitation?",
the Paste and Solder on the current layer will become "Imitation",
and you can specify using One Side Oversize from the shape that was cut. For more details about "Imitation", see here.