Schematic Capture : Schematic Settings
Memos
Set the layer specified for when placing memos.
Memos are divided according layers, so it is easy to toggle display ON/OFF.
There are the following types of memos.
- Notes
- Arrows
- Free Lines
For more details about opening the Schematic Settings screen, refer to About Schematic Settings.
Memo Screen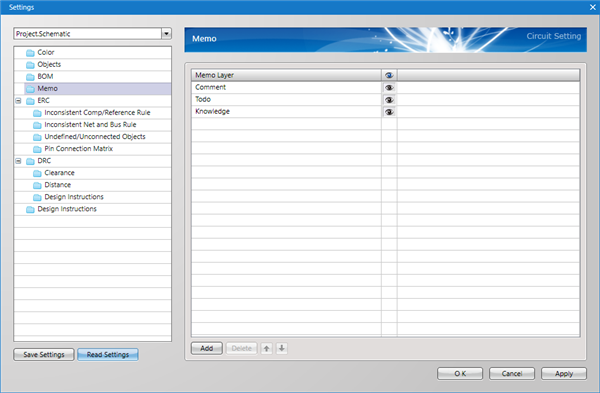 Toggle Display of the Memo Layer
By toggling the display icon, it toggles between Show/Hide.


: The Memo Layer is shown


: The Memo Layer is hidden
To toggle display of all, Toggle All ON/OFF is convenient.
---
Memo Layers can be added freely.
You can add comments for checking drawings and for AW design.
| | |
| --- | --- |
|   | The new layer will be added. |
 
To change the name,
Right click
Click => [Rename].
(Or execute using the "F2" key from the keyboard.)
---
Unnecessary Memo Layers can be deleted.
Keep in mind that memos placed on deleted memo layers will also be deleted at the same time.
(1)
Select the item you want to delete.
(2)
Click the "Delete" button.
 
* Or execute using Right click
=> [Delete].